Non-Tolkien Rangers, you say? Here's my loadout as John Gage, a frontier Ranger for the New California Republic.
For those of you who aren't familiar, the NCR is a faction from the post-apocalyptic computer game Fallout: New Vegas. The Rangers patrol the wasteland that used to be California as well as parts of Oregon and Nevada.
Here's some reference imagery: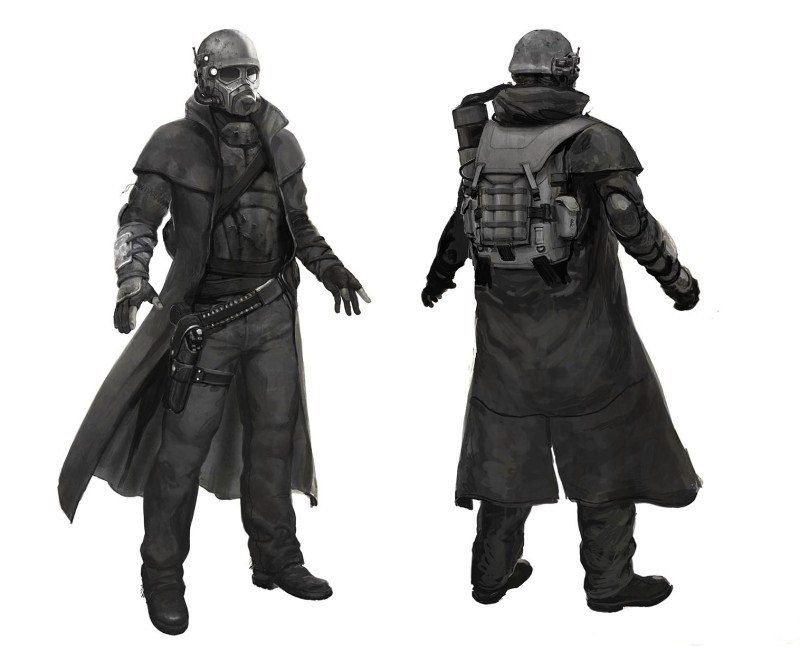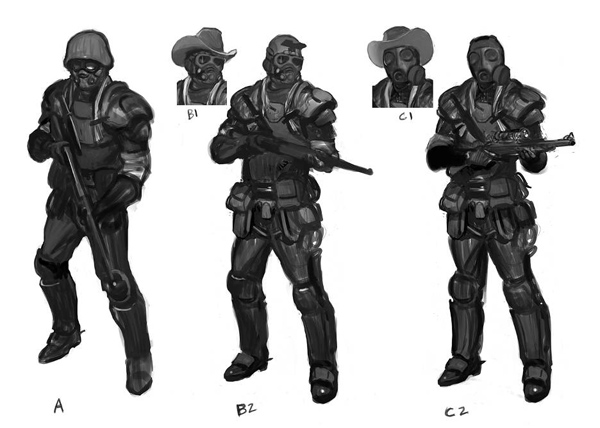 And here's me:
It's obviously not a perfect replica of the rangers from the game, but I prefer a functional equivalence over exacting aesthetic perfection.
In that interest, here's my kit:
SOFT KIT
The backdrop is my bedroll, a wool blanket. You can see it strapped to the outside of my rucksack in the above images.
The bag itself is a MOLLE rucksack. Not
exactly
in keeping with the retrofuturistic feel of the game, but fairly in line with the more modern concept art above.
The duster is oilskin, getting a bit threadbare but still the longest-lasting raincoat I own.
The boots are modern Danner hiking boots.
The belt is a web belt with a hardened steel quick-fit V-ring of the type often used in parachute rigging. It's extra-long so I can loop it under my butt to make a makeshift climbing harness.
The gloves are trigger mitts, basically mittens with the trigger finger separated for shooting and general dexterity.
The neck gaiter is a 2'-ish tube of tissue weight rayon. It can be arranged to fulfill the purposes of balaclava, scarf, bandanna, keffiyeh, mosquito net, headband...pretty much whatever. Light enough to be cool in hot weather, but adds a little extra warmth when it's cold out.
Not pictured: Gaiters of the non-neck variety. If there's one thing I've learned hiking the Wasteland, it's that sand, pebbles and twigs in your boots are murder on your feet.
John Gage's dogtags are also there, but hidden in this picture.
WEAPONS AND ARMOR
The chain shirt is 22lbs of 12ga steel. It won't stop a bullet, but it
will
stop a Legion javelin or tribal's tomahawk. Even a supermutant bumper sword would have a hard time getting through it. (Not really a Fallout-style armor, but it's the closest I've got.)
The rad mask is an Israeli military surplus gas mask. It's currently attached to a filter cartridge of my own device, intended for straining out particulates (I.E., for working with fiberglass and sawdust around my workshop). It also has a tube leading to a hydration bladder so that one can drink without removing the mask in the event of a rad storm.
The varmint rifle is a .22 caliber breakbarrel pneumatic. It's not as powerful as a gunpowder weapon, but the ammo's a lot easier to make and it's virtually silent. Plus, several thousand rounds will fit in the hollow stock.
The machete is a modified 14" butcher's knife. The rifle's great for hunting and bluffing, but it'd take a lucky shot to stop a chem fiend or ghoul. The machete's a better weapon when it comes down to it, and a good tool besides.
The bush knife is 7" of heavy, heavy steel. It'll carve, skin, pry, and do much else that the machete won't.
Between the knife and the machete you can see a hone with a bakelite handle for maintaining the edges.

HARD KIT
The chems are the usual assortment--MedX, RadX, Buffout and a few Stimpacks. I've got some Mentats in there, but haven't ever needed to use them. They're for altitude sickness or emergencies; don't want to become a chem fiend. (In reality, it's a fairly standard first-aid kit)
The Candle Lantern is nice. Energy Cells are a rarity on the frontier.
In the game, one uses hairpins to get into pre-war ruins. I find lockpicks a lot more effective.
The cook pot is nothing special; a stainless pot with a lid so I can use it on a campfire. Also pictured nearby are a camp cup and a spoon.
The spirit stove is preferable to woodfires on short patrols. It burns clean with no light or smell and runs on moonshine. Pictured nearby is a ferrocerium striking rod for lighting the camp stove.
The canned food is to supplement any game that can be taken on patrol; radroach and bloatfly meat, mostly, but occasionally a gecko or molerat.
I don't know if any of you are the right combination of nerdy to enjoy this post, but I figured it was worth a shot. Cheers!